The Place Promised in our Early Days
The place Promised in Our Early days is the second movie from a relatively new Director, Makoto Shinkai. Shinkai gained alot of buzz after he released Voices of A Distant Star, a movie that he wrote, voice acted, directed, and animated by himself on his computer. For his second movie Shinkai had to recruit a few more people, but still maintained the independent spirit of his first film. Both of his movies have recieved tremendous praise from the anime community, and some have dubbed Makoto Shinkai with the moniker of "the next Miyazaki".
High praise, but does Shinkai live up to it? Commence Reviewing NOW!!!

Visual Quality-20 points. The whole time I was watching this movie, I was in awe, it looks amazing, and it was not animated by major studio. It was mainly made by one man, and a few other people all on their computers. One thing that will strike any viewer is the incredible backgrounds, and the brethtaking sky scenery. The character designs are pretty well done, each character is distinct, and easily identifiable. Moreover the animation is fluid, and well done, I can't believe this wasn't produced by a major studio. I wonder what would happen if this guy was put in charge of a studio Ghibli movie, the beauty of it would probably kill whoever watched it.


Plot-35 points. Some of the subplots are a little weird, alot of Scifi stuff is included parallel dimensions and whatnot. The parts explaining all of the strange happenings went right over my head, I didn't even try to comprehend it (not that it was based on fact or anything). However, the main storyline of how friendship and romance develop over time is pretty good. Basically The place promised in our early days takes place in an alternate reality in which part of Japan is split into a northern and southern half after World War II and takes a look at the lives of three kids who build a plane to travel to a mysterious tower erected on the northern half of Japan. The ending of this anime leaves alot up to the viewers imagination, not exactly a bad thing, but I felt like I should mention it here.


Characters-27 points. One of the best parts of this movie is the extensive attention paid to developing the main characters. One of the main characters provides the narration for most of the tale. This technique of character development is seldom used in anime, and gives a unique tone to this film. Overall each of the three main characters comes off as a believable person, and this adds greatly to the impact of this anime.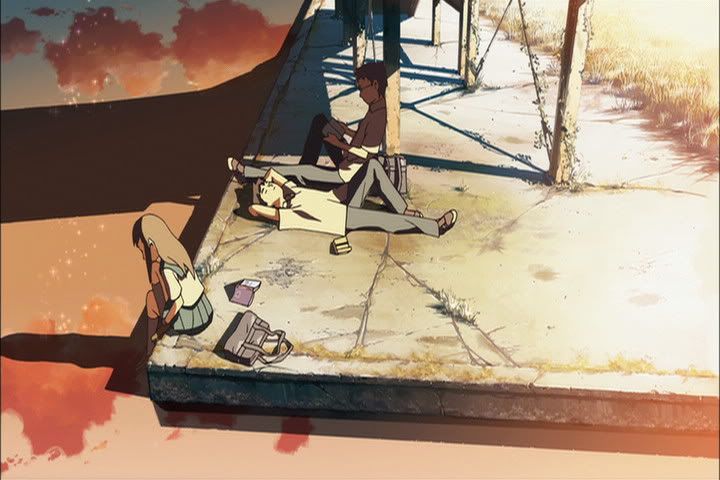 Music-10 points. Lately I have been neglecting the music section of my reviews, so I will try to put a little more emphasis on this section. Overall the music is great, lots of orchestrated pieces, and songs. The music adds greatly to the romantic tone of this film.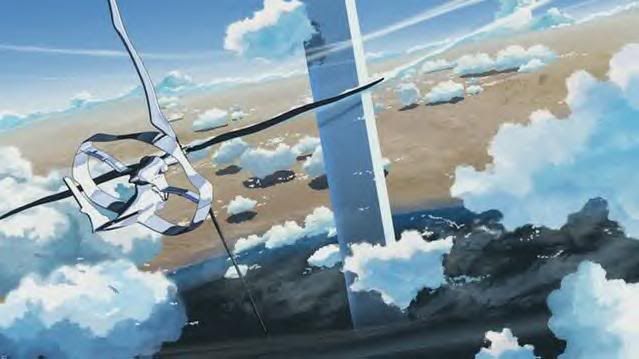 Visual Quality-20 points, Plot-35 points, Characters-27 points, Music-10 points.

Overall score-92

If you guys didn't notice I, Rabbit-man, used a different style of writing for this review, tell me how you liked it.