Howl's Moving Castle
Alright, I have wanted to see this movie ever since it was first released theatrically in English. In fact my quest to see Howl's was one of anguish and torment. I show up at the god*** theater and what does the clerk say, "No this is a special screening, you have to have a pass to see this." What the hell, I was never told of this pass. So I say to the clerk, "Listen theater-slave, this is America, a free country, if I want to see this movie I can!!" To which the clerk replies, "You f***ng idiot, this is England". So I left dejected, and suicidal, and had to wait for the DVD release.
So after a couple of months the DVD came out, and I watched it, and all I have to say is WOW.
Hayao Miyazaki, the master animator has returned to film-making, after another brief retirement, to direct what may be his final production, and he pulls no punches in this installment. So how did it do, huh, huh, HUH!!!???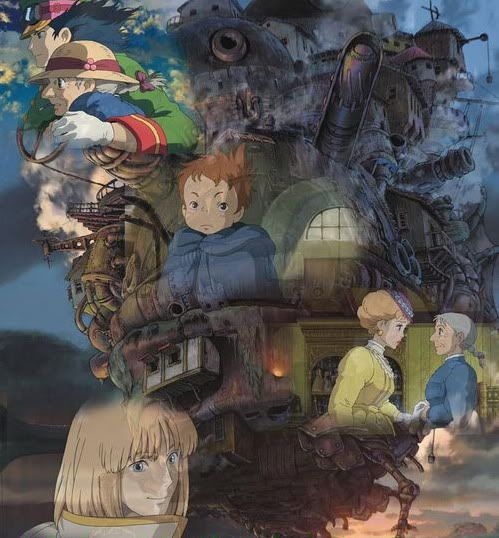 Visual Quality- 23 points. Now I know what you all are thinking, "HEY RABBIT-MAN VISUAL QUALITY IS ONLY WORTH 20 POINTS, AND YOU GAVE THIS 23. WHAT'S UP WITH THAT?" TO WHICH I WOULD REPLY "SHUT THE HELL UP, I'M IN CHARGE OF THIS NOW LEAVE ME ALONE!!!!" So if anyone has read vicious dreamer's review (it's right below this one go ahead, after you read this), you saw that extra points can be given, if the reviewer says so, TYRANNY DAMNIT TYRANNY. This movie looks awesome, everything moves so smoothly, and the castle looks amazing. This, quite possibly , could be Hayao Miyazaki's last film, and Studio Ghibli wanted to pull out all the stops for his swansong. The character designs are awesome as usual, and the main female character, Sophie, happens to look different from the classic Miyazaki female character (which is a good thing, creativity, nothing wrong with the original character designs).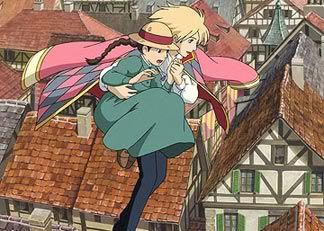 Plot-28 points. This is where the whole movie falls apart. I was digging the beginning, and as the time began to pass by, I wondered, how the hell are they gonna finish this. Well shortly after I thought this all hell broke loose, and every plot point was solved, IN LIKE 3 SECONDS. What the hell? The ending is pretty much the only flaw in this movie, because it was freaking rushed, and it just didn't make sense. Also some relationships could be explored, possibly to explain the sudden romance that popped out of nowhere.


Characters- 28 points. I have no faults at all with the characters in this movie. They are all pretty cool, and developed about as well as they can be in a movie, DAMN TIME CONSTRAINTS. Wow I am really using some foul language, all right from here on in no more. So why did I take off that one point...Oh yeah, that scarecrow guy, I just didn't like him, it would be a spoiler if I said why though.

Music-9 points. Yeah I liked the music, it was pretty cool, I don't have much else to say about it.
Overall score-88

So I have graded this better than Mononoke, before you all attack me remember, that the gorgeous visuals are what gave Howl's such a good grade.
Edit: I changed the grade on this movie, it wasn't sitting well with me, it was a 92, and I think I misadded originally. I HATE YOU BASIC MATH!!!!
Edit: The mononoke grade has been increased, ignore the previous comment, and read the mononoke review